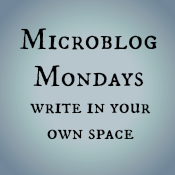 After my deep connection with the universe occurred last week through meditation, a nasty virus took hold of me and I have been grounded ever since. I am back to work on day 6 of the plague (feeling a lot better) and trying to function today. I was drawing a blank for my post, until I remembered the super-amazing-awesome toy that my husband found for Sofie this weekend.
It is called the "
Flutterbye Flying Flower Fairy
" (say that 10 times fast) and it is a remote control helicopter for 5 and 6-year-old girls (and 40-something year old women). The hardest part of using it (unless you get a defective one - the first one we bought had an issue; we exchanged it) is waiting the 25 minutes for it to charge up. Oh, and the Fairy does fly like a kamikaze pilot but so does my Sofie.
Playing with the fairy is like having a bag of pixie dust for a friend. Cosmic. Why did we not have these in the 80's???
Not sure what #MicroblogMondays is?Read the inaugural post which explains the idea and how you can participate too
.