I have always been a very spiritual person. I occasionally feel like I've lost that connection with the universe and the world around me. It tends to happen gradually. I will have some change take place in my life (kindergarten starting, Mandarin lessons, house cleaning,... whatever) and I will accommodate that change with time. I'll get tired. I'll get restless. I'll stop focusing on me and start focusing on all the crap I have to do. And all the negative feedback that comes my way starts to circle around in my head. Months go by. Suddenly, I am exhausted, stressed, anxious and out of touch with my awesomeness.
Last week, after my 30 minute cycling workout (really pathetic, but I am suffering from tendinitis in my elbow at the moment), God spoke to me and said, "[Junebug], take a moment and meditate." Eureka!
I have meditated by myself in the past, I have tried binaural beats, I have done yoga/breathing, and somehow Deepak Chopra soothes me at a different level.
I started my "Perfect Health" guided meditation and I felt SO MUCH BETTER after I was done. I was so focused at work. I was able to function after I got home. I had an amazing day. I kept doing it every day last week, and it helped a little bit each day. I met all my goals for the week plus some. Today's meditation was all about loving myself the way I am, and I got stuck on Sirius XM Love by chance on the way to work. Weird, right? I never listen to that channel. It is too goopy for me, but it was spot on for the day.
Now I am taking steps to make sure that I am feeding my soul with meditation, and I commit to not falling out of the practice.
NOTE: I have purchased a few guided meditations from Deepak Chopra and Oprah Winfrey. In case you are interested, there is a
freebie
21 day mediation starting on March 16th called "Manifesting True Success". Do it! I find them to be life changers. Did I mention it is only 15 minutes?
https://chopracentermeditation.com/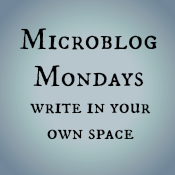 Not sure what #MicroblogMondays is?Read the inaugural post which explains the idea and how you can participate too
.